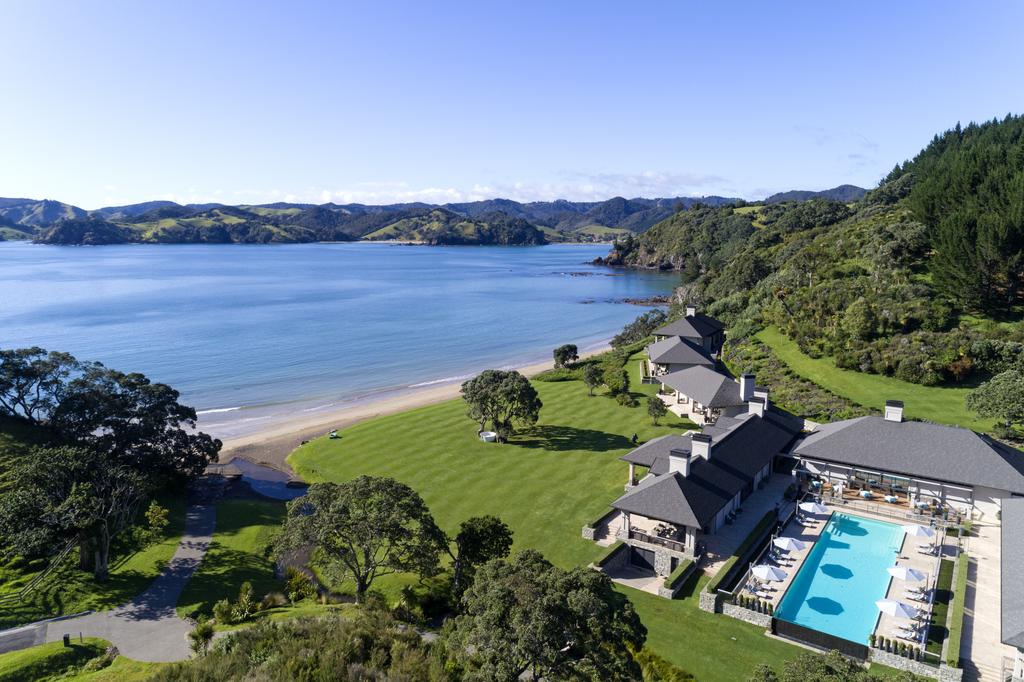 Helena Bay Lodge's idyllic grounds
"We've got several Cantilever Umbrella's around the pool area and literally, 30 seconds to drop them all if the wind picks up so that's good"

- Glasson Fitzpatrick

Operations Manager, Helena Bay Lodge
The Introduction: Helena Bay Lodge
Helena Bay Lodge is a 5-star hotel situated along the world-renowned Tutukaka Coastline, Northland, New Zealand. The lodge has a focus on excellence with its exclusive private-10-guest-occupancy, Michelin star menu and opulent interior design.
"Helena bay's reputation as such a beautiful location, we won the best lodge in New Zealand so our standards are pretty high" - Glasson Fitzpatrick
Key Stats:
Nine Premium outdoor umbrellas
Installed 10m /32 ft from the high-tide mark.
10 guest maximum occupancy.
The Problem: Coastal Conditions
Providing sophisticated, usable shade is essential in any high-end hospitality business and Helena Bay Lodge demands attractive & long-lasting installations. Constructed as an ocean side, waterfront property, it's imperative that any outdoor furniture products are manufactured to stand up to the rigours of the Northland coastline. Salt spray and wind can damage outdoor products over time due to stress or in an unpredictable instant.
"If you get caught out with a really big gust-of-wind, they take up so much surface area it's like a parachute almost, so they'll try to take off." - Glasson Fitzpatrick
The Solution: Sophisticated Shade
A Shadowspec Duo looking over the bay
Shadowspec provided nine premium outdoor umbrellas to Helena Bay lodge to cover their shade needs. A Shadowspec Multi-Canopy Cantilever and Rotating Cantilever Umbrella were selected.
Built from marine-grade aluminium and quality UV resistant canvas. A focus on quality and style is important for the Helena Bay Lodge.
"It's the quality of the fittings and the workings of the umbrella's. The stainless steel bases are marine quality. The way the mechanisms work it would be up there with stuff you would find on a super yacht." - Glasson Fitzpatrick
Shadowspec's one-movement gas-lift technology allows Helena Bay staff members to deploy or retract the umbrellas in five seconds. Enough time to prevent damage from high winds and unforeseen inclement weather. The umbrellas are rated for wind up to 20 knots, at that point The Lodge guests will have a preference for the indoors as that's enough wind to blow over a glass of Pinot or rip a newspaper from your hands.
The Results: Stylish, Functional Shade
Helena Bay Lodge's umbrellas have been in place for three years and the results have been exceptional, guests have been appreciating the effortless elegance of the shade whilst enjoying the poolside, exclusive pavilions and the exquisite experience that the lodge has to offer, all the while, the umbrellas are standing tall against the salt spray and hot sun.
Find out more about the Shadowspec range of outdoor umbrellas or find which umbrella is best for you.