Isn't summer great? Warm weather, cold drinks and great memories in your home and garden. Comfort is key to having a great time outdoors in your home and garden, under the sun. Outdoor umbrellas are perfect for the hot days and long nights of summer and at Shadowspec, we have a range of premium patio parasol's that you can deploy with ease to enjoy the shade with your friends and family.
Outdoor umbrellas will transform your outdoor space, adding the finishing touch to your well designed outdoor patio area. Umbrellas are the best option for outdoor shade, they're modular, dynamic and can tilt rotate and shift to follow the sun like no other solution.
Convinced? Great - next, you've just got to choose the right umbrella for your space. It can be overwhelming so we've put together a list of everything you need to consider in this handy guide, stick around too we've got a great tool for you to make it even easier.
Here are the key things to be aware of when choosing your outdoor umbrella...
Umbrella location.
Do you have a flat surface for the umbrella to sit on (such as a deck or patio), or will the umbrella be wall-mounted? Also, consider factors such as the location of the umbrella in relation to your roof and overhang, is there enough space for the umbrella without it touching the roof? There are lots of key decisions to make in your garden design.

Umbrella size.
The amount of shade and shelter you receive will be determined by the size of the umbrella you choose. Think about how much shade you want, and how much space you have available. Placing an oversized umbrella into a small area or vice-versa will end up being detrimental to your efforts.
Your new outdoor umbrella should cover your table setting with an extra 2 feet / 0.6m of space around for extra comfort.
UV protection & rain cover.
We're very concerned about the health of people and it's important to us that our umbrella fabric offers a high level of UV protection. We also protect your investment with fabric warranties of up to 5 years.
All Shadowspec outdoor umbrellas are manufactured from premium grade, non-corrosive materials and marine-grade fabrics. They are engineered, wind tested and certified to guarantee exceptional quality and top performance for many years.
Easy to use umbrellas.
When selecting your outdoor umbrella, ensure it is easy to set up and take back down again. We're cognisant of peoples time pressures and safety needs so our umbrellas are engineered to be easy and safe to use. Our premium range of cantilever umbrellas can be deployed or retracted in under 5 seconds with as little as 1 finger.
It's important to us that it is easy to use your umbrella, as we advise retracting it when not in use to extend its life. We know sometimes things that fall into the "too-hard-basket" don't happen, therefore it's important our umbrellas are in the "too-easy-basket".
Umbrella Pole Location.
Your outdoor space is individual and made for you - your outdoor umbrella should enhance and accentuate your space. When it comes to choosing the style of your umbrella it's important to make some decisions about what you want to achieve. Shadowspec has a range of pole and mounting options available to make the most out of your space.
Wall mounted
Small and awkward spaces have a lot of character but not a lot of places to mount an umbrella, Wall mounted umbrellas are popular when you've got a wall or an existing fixture such as a wooden pergola that you can enhance with an outdoor umbrella. They are also perfect for covering a spa pool or an outdoor dining area.
It's important to make sure you've got a strong and suitable mounting spot such as a load-bearing beam or a sturdy pillar.
Centre pole
Centre pole umbrellas are the classic umbrella seen at homes, cafes and markets around the world. They're great for providing a varying level of shade to perfect for dining spaces on the patio.
The challenge with a centre pole umbrella is working your furniture around the pole's location. It takes a bit of creativity to blend it in and create a cohesive and consistent space for your friends and family to enjoy. The pole is also where your guests want to be... Under the umbrella.
Cantilever Umbrella
Outdoor cantilever umbrellas are fast becoming the number one choice for exterior spaces. Elegant and practical, the benefits of the cantilever umbrella are the offset mast, keeping the conversation unobstructed and floor space free to flex your outdoor design muscle.
Cantilever umbrellas need consideration in the way they're mounted to ensure they operate in the correct way.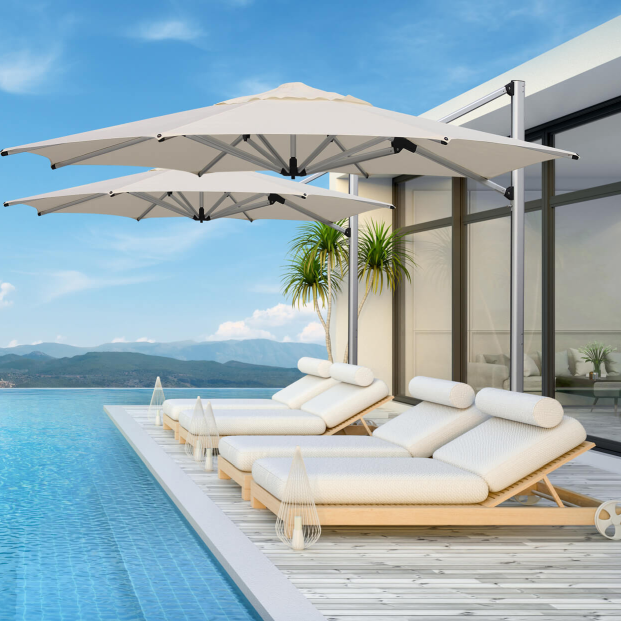 Umbrella mounting options
Choosing the right mounting option is essential to the enjoyment of your shade and your outdoor space. Shadowspec umbrellas have a variety of umbrella mounts that are designed for specific uses depending on the area you want to shade.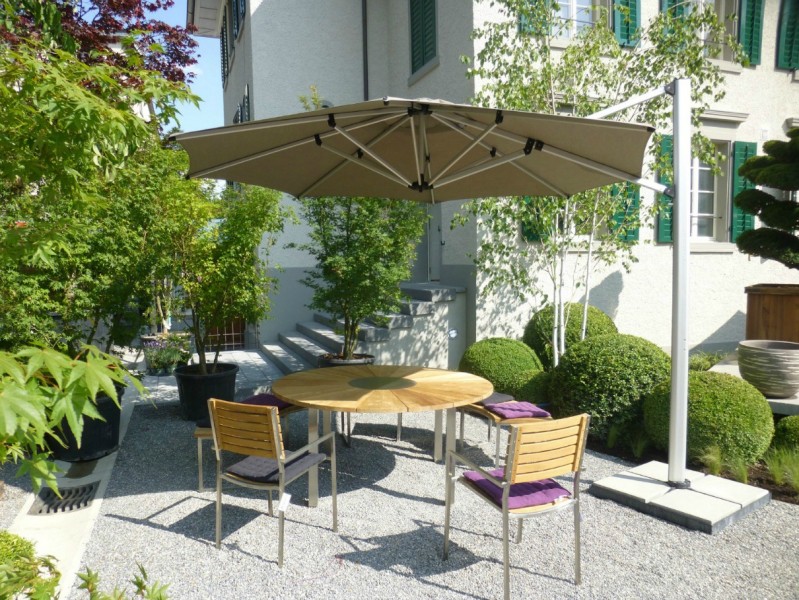 Portable base
A portable base is great for spaces that are ever-shifting, or areas that can't have permanent fixtures. The portable base uses standard paving stones as ballast to keep it in place and can be augmented with rolling caster wheels for flexibility when wanting to move it.


Surface plate
A surface plate mount can be fixed to wood or concrete to create a stable base that melds into the surroundings, creating a pleasing aesthetic.
In-ground anchor
Similar to the surface plate, the in-ground anchor provides a sturdy fixing for your umbrella. Inserted into a hole and held in place with concrete - the in-ground anchor is best installed in new spaces as they're being constructed. They're also great if you've got a adjoining garden or grass patch.
During winter you'll need to take down the umbrella, the low profile mount can be removed as a temporary measure to remove the potential tripping hazard.
Wall mount
Our cantilever umbrellas can be wall mounted to spaces that require it. popular with homeowners with restricted space in their garden, or on their rooftop deck which has a waterproof membrane preventing penetration for any other permanent fixings, or as an add on to the pillar of the custom built-patio or pergola pillars to extend shade beyond the fixed structure roof line. It's key to ensure the location of your wall mount is sturdy and meets the minimum install height.
Having an adequate mounting option is the most important factor when considering an outdoor umbrella. If your base isn't correct you run the risk of damaging your umbrella, your space or even people.
Where to next?
There is a lot of information to consider when deciding which umbrella is the right option for you, so, we've put together a great tool to aid you by determining your wants and needs, and matching those with the best option. It's our "Umbrella Selector Tool" - fill in the details and it'll guide you on your journey to finding the perfect shade solution.
If you need any extra help, our team is all about helping people create the best outdoor space they can, so feel free to get in touch.